Susanne Kathlen Mader
Colours in motion
With great joy in experimentation, Susanne Kathlen Mader explores the inexhaustible potential of colours and innovative techniques. In addition to her work in the studio, the artist realises public installations and exhibits internationally. Her characteristic oeuvre includes abstract graphics, paintings and sculptures in various materials.
Image 1: The Harbour, 2017, mixed media, watercolour, acrylic, grease pencil on Hahnemühle mount acid-free
Image 2: Unexpected Incidents #8, 2017, mixed media, watercolour, acrylic, grease pencil on Hahnemühle mount acid-free
Subgaze.com presents a selection from the series Unexpected Incidents and Composizione, begun in 2016 and 2017. Different in medium and expression, both groups of works reveal an intense visual language.
The Harbour immediately precedes the Unexpected Incidents series and features Oslo Harbour as a motif. The Paper works show the perfect symbiosis of inspiration from nature and free abstraction. While the early abstract works still show clearly outlined geometry, organic forms increasingly appear here. Seemingly random traces of colour left behind on Unexpected Incidents #8 give the impression of lines and colour blobs dancing in the pictorial space. While subtle contrasts set the viewer's eye in continuous motion, lines running in opposite directions create an exciting dynamic.
Image 3, 4, 5: Composzione #5, #23, #13, 2017
Digital prints on Hahnemühle Photorag. Printer Espson Sure Color P 800, frame museum glass 90, edition of 30
Since 2007, Susanne Mader has been creating graphic works on the computer with effective superimpositions of colour planes and filigree line play. Areas of colour in different tonal values and three-dimensional construction elements lend the multi-faceted graphics of the Composizione series a remarkable depth. Neither perspective nor a clear arrangement of pictorial planes dictate a direction, allowing the viewer's gaze to wander freely over the picture surface.
From an Art Historical Perspective
Particularly in the abstract initial phase around the turn of the millenium, Susanne Kathlen Mader's works show constructivist traits, such as a limited choice of colours and geometric motifs, characteristic of Bauhaus and related movements of the 1920s.
By avoiding spatial perspective and emphasising the stimulating effect of colour, the painter picks up on fundamental principles of early modernism in her artwork. The skilful use of contrasts and flat pictorial space were characteristic of Matisse, Bonnard and Cézanne, who obviously addressed the media-typical qualities of painting.
By means of juxtaposed brushstrokes, Impressionist painters set the viewer's eye in continuous motion. Susanne Kathlen Mader achieves a delightful visual stimulation with comparable methods. On the other hand, the powerful expression and the gestural ductus, which are increasingly becoming visible in the work of the German artist, testify to an expressionist tradition. Despite the imprint of great modernist masters, her characteristic visual language remains unique and her use of technology highly contemporary.
Image 6: Rondo Series, Croisade, 2016, 50 cm ø, acrylic on plywood
Image 7: Rondo Series I, Momentum, 2011, 70 cm ø, acrylic on plywood
Lively painting
Susanne Kathlen Mader develops a new pictorial language on the computer using graphic programmes. In her print series Composizione mechanical constructions meet circles, straight lines and free-floating sine curves. The complex and at the same time absolutely free pictorial structure seems to follow its own logic. In Unexpected Incidents, manifold traces of colour, which testify to the artist's physical commitment, express a remarkable vitality.
It remains to be seen how the combination of experimental work with digital tools and intuitive painting will affect Susanne Kathlen Mader's work in the future. By dispensing with recognisable motifs, the art leaves ample room for the imagination. Abstract colour surfaces and curved lines do not refer to any models from nature. Nevertheless, some of the paintings evoke associations with biological phenomena. The symbiotic interplay of free forms suggests an idea of breath, growth and energy.
Free of symbolic contexts, the abstract compositions simultaneously evoke a sense of serenity and seriousness. The colours always remain the main protagonists of the artistic work: a strong pink asserts itself against a rich black, just as pastel shades appear as equal counterparts alongside primary colours. The artist directs masterfully and allows impressive moments to emerge from a colourful palette.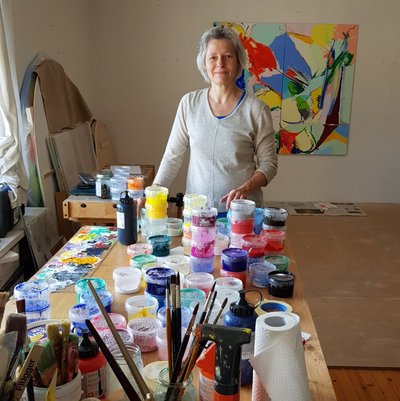 Susanne Kathlen Mader
From Dance to Abstraction
Born in Walsrode in 1964, Susanne Kathlen Mader studied at the Hochschule für Bildende Künste Braunschweig from 1984 to 1991. Already at that time she regularly visited the State Theatre and painted movements of actors on stage. After graduating, she went to Grenoble in the early 1990s, where she continued to pursue this theme and became interested in nature subjects.
From 1998 she has lived and worked in Oslo. The move to Norway also marked the beginning of her abstract creative period. Since her student days, Susanne Kathlen Mader has practised martial arts and received her third dan in Jiu Jitsu in 2017.